Waking up to the sound of waves, falling out of the bed more or less directly into the sand - one could really get used to it.
The sea was not really our main destination, but the Oribi Gorge. The Wild 5 Adventures.
Wildwater Rafting, Slide, Swing - a little adrenaline tickle.

We set off Thursday afternoon and after about 8 hours drive we reach our Backpackers in Port Shepstone, on the beach, in nature.
On Friday we enjoy the beach and the sea. Surfing is virtually impossible because the current was just too strong..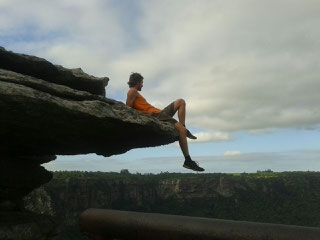 In the evening we drove into the Oribi Gorge to have a look around.
The scenery is really beautiful, a picnic at the edge to 250m almost nothing is something else.
On Saturday, we get up early to be on time - half past eight for Wildwater Rafting.

In the end we are twelve of us - 6 German, 6 South Africans. All young and kind. With a 4x4 it is half an hour drive through mud, dirt and over rocks down to the river. In between, we even have to walk, because there is a danger that we would topple over and roll down the hill.

Because of the lack of water we had to make teams of 2 in two men boats, but with Nora as captain we managed the river without problems. 4h paddling what our arms allowed - tiring but it was worth it.
Sunday = Valentine's Day and we plunge down the cliff, cause single - okey it wasn't so bad but the Wild Swing's worth it.
The take-off turns out to be pretty hard, because the rope is incredibly heavy and pulls you down.

And you just fall and fall and fall...
For those who are afraid of falling, the Slide is the better choice - for me it was clearly too slow and unspectacular.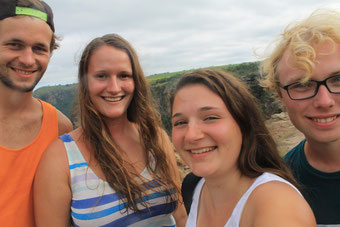 ---