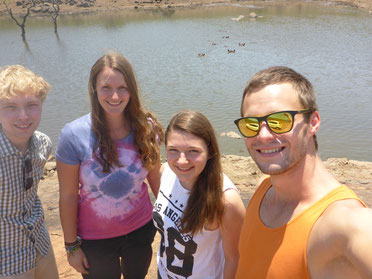 The alarm clock starts shouting at 04:00 in the morning: 'Get up, get dressed and off to the airport'.
So we stand up, get ready half asleep and wiggle towards Tsamaya Ave for a taxi.
Arriving at the Gautrain, we step through the door and get to hear that it will open in 4 minutes and that we should wait outside the door (in the cold)...
So ... we are wait ...
When they open the door - on time - we step in, load our Gold Card, and move to the train.

Then - Sunset while driving - with amazing view on Johannesburg's skyline, but of course we forget to take a picture - because too tired.

Then change in Marlboro (no there are no cowboys running around selling cigarettes), and then our last stop Rhodesfield, becauseuntil there it is just R61 - one station to the airport would cost us R100 more. So we get picked up in Rhodesfield by a work colleague of our host mother and are taken to the airport - to the car rental.

20 minutes pass until we get the car keys - after guessed 100 copies of our passports, driverlicences etc.

(Because we aren both still under 21 years old and have less than 2 years our drivers license, it's a little bit moreexpensive for us - (R330/ day) and not so easy to get a car ... - at Thrifty we get one - of course, already previously reserved and paid the week before.

It's nice to sit in a car, that has two exterior mirrors and in which you can lock all the doors and in which the brake, the radio and the air conditioning works - sorry citi golf.

After that we pick up Paula and Nora at the Centurion Mall and fly over the freeway (partly 6 lanes ..) into direction Pilanesberg. Well .. 120 is the speed limit - on the signs..

After a third of the way we stop at Shoprite to ensure our food supply throughout the day.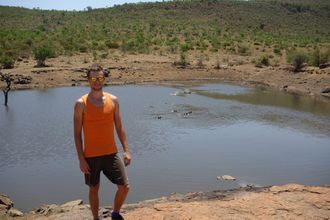 One and a half hour later we arrive at Pilanesberg National Park. (Entrance is R20 for the car and R65 per person)

Then we change the driver - it's no longer Finn but me now - and move into the territory of the lions. Well, we haven't seen any lions, but it was still beautiful.
PS.: Getting Out of the car is (actually) prohibited... but pscht!